Length: 170 cm / 67 inch (measured tip to tip over the belly)
Ear length: 27.5 cm (measured tip to knee)
Effective ear length: 21 cm (nock to middle of bridge)
Mid-limb: 37 mm wide and 10 mm thick
Weight in hand: 528 grams


DESCRIPTION
Rarely we come across a bow with such solid provenance: A Manchu composite bow made in the famous Changxing workshop in Chengdu. For whom this name does not ring a bell, this workshop was together with Ju yuan Hao of Beijing one of the two last bowyers left in China in the 1930's. The workshop was the subject of Tan Danjiong's (T'an Tan-Chiung) "Investigative Report on Bow and Arrow Manufacture in Chengdu" published in Academia Sinica Language and History Review, Taipei, 1951, and then again by the Society of Archer-Antiquaries in 1984. Stephen Selby managed to locate Wu Yonghua, the daughter of Wu Shusen, the owner of the shop, in Chengdu and interviewed her on April 6th, 2000. The interview was published online here on ATARN.ORG.
One of the bows kept by Wu Yonghua, and photographed by Stephen Selby, showing the "secret" mark of the Changxing workshop in the form of a black lozenge near the tip.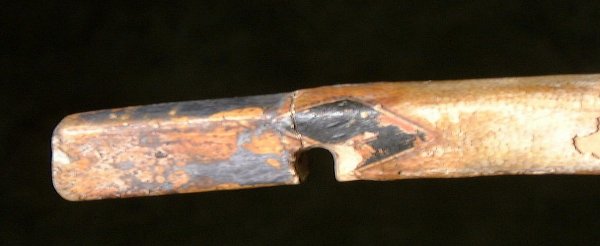 The same mark on this bow:

Apart from the lozenge the bow bears more hallmarks of Chengdu construction, being:
1. Ears with a slender profile (where Beijingnese examples tended to get thinner but wider at the ends)
2. No use of peach bark, like Wu Yonghua described.
3. Typical Western Chinese cloud shapes in the form of a double "curl" on the space between knee and string bridge.
The bow is of overall good workmanship with the typical modest finish that one associates mostly with earlier work. It was probably made somewhere in the mid 19th century. The limbs are covered in birch bark, dyed to a beautiful deep brown. During the course of its life the bow has probably unstrung itself, resulting in one slab of horn separating itself from the handle section. Also, a previous owner covered the bow in some kind of varnish in order to preserve it. Both features decrease the value of the bow, explaining the relatively low price for otherwise quite a piece of history. The bow does however retain its original deer antler string bridges which is far from common.
It is very rare to find a bow of which we know who made it. Despite the imperfect state it is in, thanks to the overall good workmanship and its provenance, it will still be a great addition to any serious archery collection. Due to its accessibility it would also make a great stepping stone for aspiring collectors or just someone that wants to own a piece of Qing dynasty archery history.


SOLD
Interested? Questions?
Contact peter@mandarinmansion.com